Though the outdoor North Union Farmers Market season on The Square will soon end, once again we will be able to patronize the Farmers Market indoors in the winter.
On Saturday morning January 7, 2012 the indoor market will reopen using space in the Square's Northeast quadrant, just west of the CVS store. Hours are 9 am until noon. It will be open through March 27, 2012.
There's a free parking lot just north of the northeast quadrant building and a corridor for easy access (see below).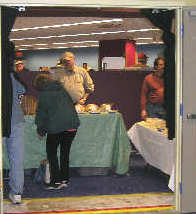 NUFM farmers will be offering fresh from the farm ... poultry, apples, mushrooms, maple syrup, pork, milk, honey, root vegetables, potatoes, jam, cottage cheese, decorative greens, wreaths, beef, European baked goods, cheeses, farm eggs, organic greens, local artisans with hand knitted scarves, pottery, jewelry, internationally prepared foods, bison, and more.
The Market is named for the North Union Shakers (1822 - 1889) whose land became the major part of Shaker Heights.
For more about the North Union Farmer's Market,
visit their new website www.northunionfarmersmarket.org.

To contact the Farmers Market, send an email or call (216) 751-7656.
Photos: Arnie Berger
Farmers Market announcement
Indoor Winter Market
North Union Farmers Market
13207 & 13209 Shaker Square
9 am to noon
Saturdays, January 7 – March 27, 2012
From January through March the North Union Farmers Market will return to Shaker Square for our ninth winter season. The market will be held in the two rooms between Dewey's Coffee House and CVS Pharmacy with free parking behind the building. Market hours are 9 am to noon on Saturdays from January 8th until March 26th, 2011.
Products to look forward to include antibiotic- and hormone-free beef, pork, and poultry and dairy products, organic maple syrup, honey, farm-fresh eggs, cheeses, winter greens, herbs, apples, potatoes, lettuces, organic grains, specialty baked goods, and root vegetables. Over 35 farmers, bakers and artists will participate at the market through the winter months.
Meet and greet with friends and neighbors, support your local economy - come visit our Indoor Winter Farmers Market and enjoy the magnificence of Ohio produce and products!
North Union Farmers Market is proud to announce that we will be accepting SNAP (Supplemental Nutrition Assistance Program) Cards at the Indoor Winter Market. SNAP recipients may bring their Electronic Benefit Transfer (EBT) cards to the farmers market and obtain tokens which may be used to purchase fresh, local vegetables, fruits, dairy products, meat products, honey, preserves, baked goods, plants used to produce food at home and much more. SNAP recipients should first visit the "Market Information" table to receive tokens before purchasing items.
North Union Farmers Market Indoor Winter Market opens on Saturday, January 7 from 9:00 am to Noon, rain or shine. It continues every Saturday through March 27, 2012 supplying locally grown fresh produce from Ohio farmers.
North Union Farmers Market is a 501(c)(3) nonprofit organization whose mission is to champion the local foods of Northeast Ohio and promote their environmental, economic and health benefits by connecting certified producers with consumers through a network of markets.