BEFORE THE SHAKER RAPID
The Shaker Lakes Streetcar Line 1908- 1920

Public transportation in Shaker Heights did not begin in 1920 with the Shaker Rapid Transit, a creation of the Van Sweringen brothers. Long before the Rapid there was streetcar service to early Shaker. It was known as the Shaker Lakes Streetcar Line.

For more on this subject we suggest reading "The Shaker Heights Rapid Transit" by James Toman. Copyright 1990 by Cleveland Landmarks Press.

Dr. Toman (1941 - 2016) was author or co-author of 18 books on topics of Cleveland history. His book gives an appreciation of how government, private enterprise and real estate developers interact to shape land use and public transportation.

Thanks to Meghan Hays of the Shaker Heights Library for her assistance.
Drive south on Coventry Road in Cleveland Heights and cross Fairmount Boulevard. The road is still two lanes in each direction, but now there is a 50 foot wide grassy median strip separating north and south traffic. This extension of Coventry Road was designed with a median strip for a streetcar line to help promote sales of real estate all the way out to the Shaker Lakes lots being offered to those who wanted new homes, high elevations, clean air, and neighbors like themselves.

So important was the streetcar in those days before the wide ownership of automobiles -- 1908 was the year the Ford Model T brought down the price of cars -- that real estate developers would furnish the right-of-way and even pay monthly subsidies to the streetcar companies.

In 1908 that median strip that started at Fairmount Blvd was the northern end of the Shaker Lakes Streetcar Line. It ran south on Coventry Road, then east along what was also Coventry Road (later renamed Shaker Boulevard) ending in a "wye" on Fontenay Road, about 1,200 yards east of Lee Road. When started in 1908 the entire line was in Cleveland Heights Village. In 1911 the 'Vans" engineered the separation of the southern part of Cleveland Heights to form Shaker Village, which they soon renamed Shaker Heights Village. See our pages on creating Shaker Village.

This electric-powered streetcar was used on the Shaker Lakes Line, shown at the top of Cedar Hill. It started at Public Square, then Euclid Avenue to University Circle, and up Cedar Glen

Then east on Cedar Road to Fairmount and Coventry, then south to Shaker Boulevard, then east on Shaker. The trip took about 45 minutes Jim Spangler Collection, Toman, p 13.
Above: a partial view of the map of Shaker Village as attached to the 1911 petition to separate from Cleveland Heights Village Note that it does not show Shaker Boulevard. Coventry Road extends past Fontenay Road and runs roughly parallel to South Woodland Road. Other changes: "Fairmount Road" would become "Fairhill Road" and "Woodland Road" became "Larchmere".
Once the Van Sweringen brothers had won legal separation and now controlled the area, they began to "rebrand". That included changing the village name to "Shaker Heights Village" and re-naming the east-west part of Coventry Road "Shaker Boulevard". Image source: Cuyahoga County Archives. Photographed in 2011 by Arnold Berger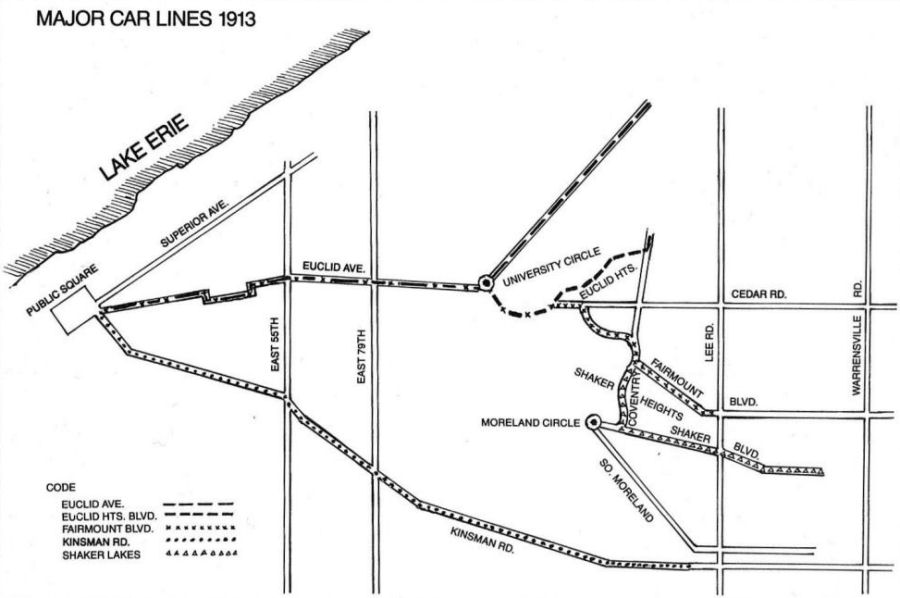 A map of the major streetcar lines to the east side in 1913. Source: Toman page 16

The Shaker Rapid was well worth its ten cent fare. A more direct route downtown, heavier rails, fewer traffic lights and fewer stops meant much higher speeds. Travel time was cut in half, even though in its early years the Rapid got to Public Square by getting on Euclid Avenue around East 30th.

When the Shaker Rapid began operation on August 16, 1920 the stretch from Fairmount down Coventry was no longer needed. The Van Sweringens paid to have a free "dinky" on that line. On March 13, 1923 service ended for lack of business.

Now without rails, grassy and with mature trees, the 50 foot wide median on Coventry, shown below, is a reminder of the streetcar line that helped Shaker Heights grow in its early years.

At the intersection of Fairmount Boulevard and Coventry Road today, looking south. Fairmount Blvd. westbound and eastbound can be seen at the far left. The 50 foot wide median strip was the northern end of the Shaker Lakes Streetcar Line.

I took this photo standing near a house that had a FOR SALE sign on its front lawn. A web search on the address found a real estate listing that showed the house had been built in 1913. Photo by Arnold Berger May 25, 2018

Looking down at the southern end of the 50 foot wide median strip of land along which the old Shaker Lakes Streetcar ran. It is now the intersection of Coventry Road and Shaker Boulevard. We are looking northeast.
Back in 1908 the streetcar turned east here .This area is in Shaker Heights. The Cleveland city line is only about 30 yards west of Coventry. Photo taken May 24, 2018 by Arnold Berger from the Shaker Towers suite of Dr. James Leu.