More on the founding of Shaker Heights
This page displays three additional documents related to the founding of Shaker Village in 1911:

Cleveland Heights publishes its approval of the separation.
Cleveland Heights accepted without objection the petition that would remove hundreds of acres of prime land from within its borders and moved the separation along quickly. The motion passed June 20, 1911. The first required public notice was on June 22, the last was on June 29. The County Archives contains the certification that Cleveland Heights Village had published the proposed ordinance in two "newspapers of general circulation in said Village and of opposite politics."
A week later, on July 5, 1911, the Cuyahoga County Commissioners approved the establishment of Shaker Village.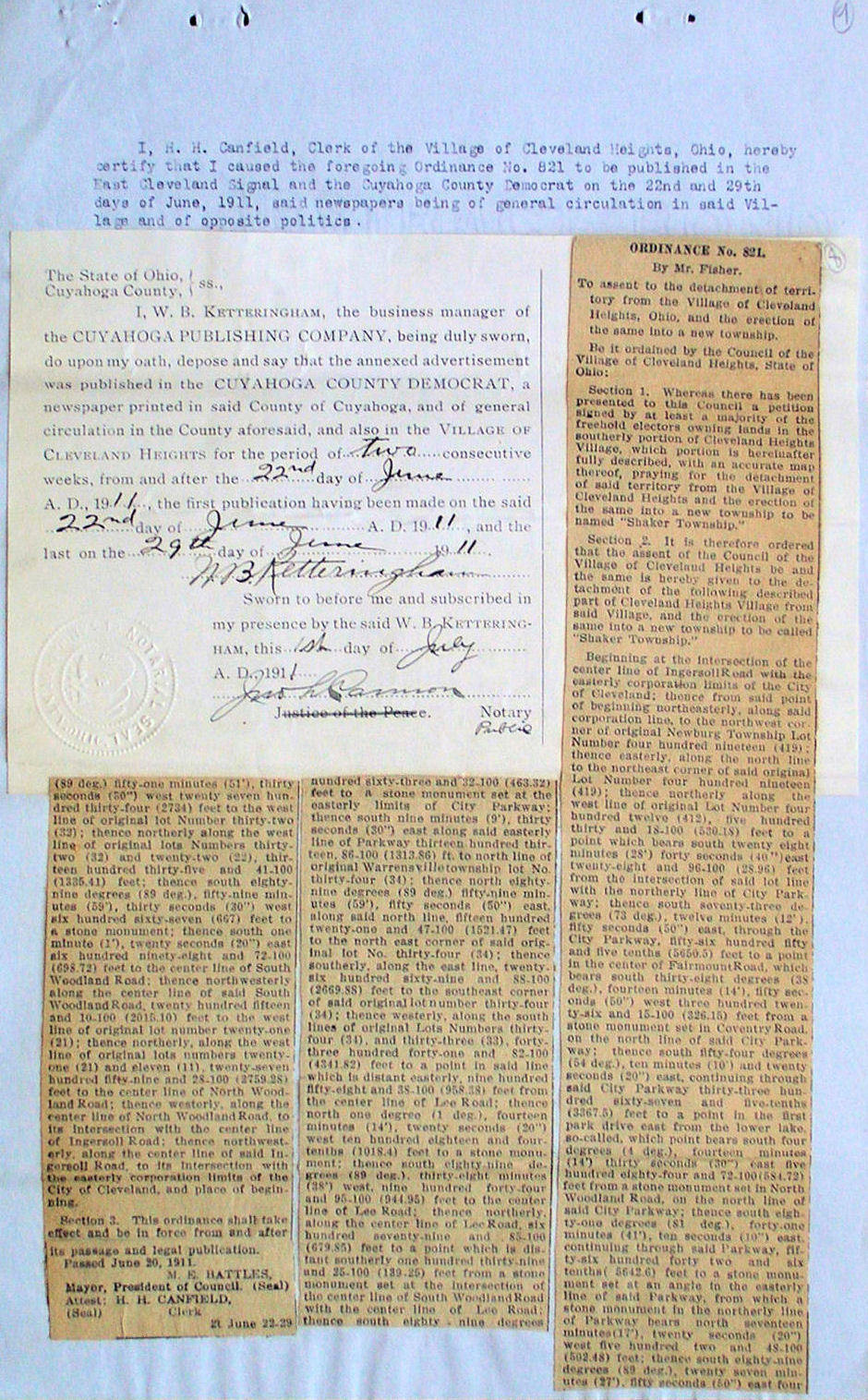 Cleveland Heights divides its assets and liabilities
As required by Ohio law, on July 5, 1911 the Village of Cleveland Heights, using 1910 property valuations, determined what portion of its assets and liabilities it would keep and what share would belong to the new Shaker Township. Shaker's share was 11.2 percent. It would begin life with $6,998.66 in its sinking fund and $15,708.22 in bond indebtedness. We show a portion of this complex document.

County orders the first election of Shaker Village officers
The Cuyahoga County Commissioners approved the separation on July 5, 1911 and, as shown below, three days later ordered the first election of village officers to be held on Tuesday August 8, 1911 at 2889 Lee Road, between Shaker Boulevard and South Woodland Road. Legal notices in the Plain Dealer in 1912 identify 2889 Lee Road as the Shaker Village Town Hall.